My dream has come true short time ago as I found several meaningful colonies of numerous and healthy population. Prosperity of colonies is dependant on friendly season of early warm spring with sufficiency of sunny days what influences positively development of young spiders in cocoons and also quantity of feed for the youngs. Wolf spider did not catch our attention because of small population . Thou the population prospered periodically which is proved in previous years observations (s. history of observation of some remarkable finds in the Czech republic)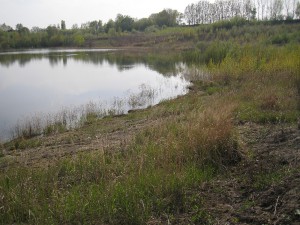 I took a few tours around different parts of large area of flat ecoton and around system of 30hectares of lakes in basin of the river Morava in territory Otrokovice (Zlin) – Kunovice (Uherské Hradiště) as I was announced by student of Medical University Miroslav Veselý who sent me an e-mail with information about a big spider and picture of the spider.

There is slay soil with sand alluvium all over Dolnomoravsky uval valley. It does not show big divergence from charted type localities e.g in Slovakia.However, biotop is different from a biotop which was recently found (13.5.2007) in area of southeast agglomeration of Uherske Hradiste county. The biotop and its population is non-original location and domain is composed with ruderal community. But there the population is rather regressing. lycosidae-024.jpg

Locations I have watched have very poor vegetation (…..) are characterized by wide plain with thin grass cover of stroke character. Locality in ravine contains set of lakes and artificially created lagoons, which has been made within 20 years , when the landscape was changed for purpose of digging chippings. There was grown corn in the past. Distance among localities is approximately 5 km. They are spreaded beside reef of The Bata channel with decreasing density in 200 metres length.All area of stroke ecoton with appearance of population of all evolutionary stages is another example of variety of biotops which Lycosa singoriensis can colonize. After estate of relict study I suppose this is the the most numerous colony ever observed in our area.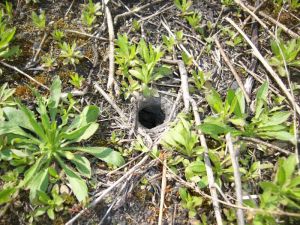 Colony beside the river Morava is concentrated on souteastern oriented reefs and on drifted dried reefs of former river basin where the colony settles also empty rodent burrows. Spider is building burrows which can be 20 cm deep and they are ended with a room. I suppose , following my artificial simulation, females can colonize more burrows. The fact that around main burrow are 2-3 empty ones (and tose can be connected by a corridor) confirmed me in my idea. (Females builds several of such a housings in captivity and they move from one to the others during the night ).Young ones occures on wet edges of this system of burrows ( I have not spotted them anywhere else ).

We found 2 females with youngs sunning on abdomen around edges of burrows durig our last observation.It is tipical to take sun for wolf-spiders this is why I concentrated to observe them when it was sunny with air temperature 28°C (9.6.2007) This year´s youngs in the second instar were moving along sand reef. The bigger ones and one year old youngs build their burrows not far from wet soil but still near to reef, which gives them biggest possibilities in catching small insects. I have not noticed any signs of canibalism even both age stages were meeting each other. (phto by Stanislav Macík and Jan Korba)

Stanislav Macík,Jan Korba,Ph.D Milan Řezač,Mgr.Jan Dolanský and col.Czech arachnologists